I'm sure you've noticed bringing a pet to a restaurant is increasing in popularity. Many of your guests would like to bring their pet or emotional support animal along with them when they go out to dinner but may have difficulty finding pet-friendly restaurants. As a restaurant owner, you can attract new guests by welcoming guests with their pet or ESA when they dine out. There are several easy ways to create a pet-friendly establishment and offer pet owners the opportunity to bring their beloved animals along.
Local Laws
First, check your state and local health codes before preparing a pet-friendly eating area to understand the specific rules and regulations regarding the legality of pets in restaurants in your city and state. Next, clearly designate a specific area for dogs and their owners. Make sure there is plenty of room for dogs to stay out of the way of foot traffic as well as away from wait staff and other guests.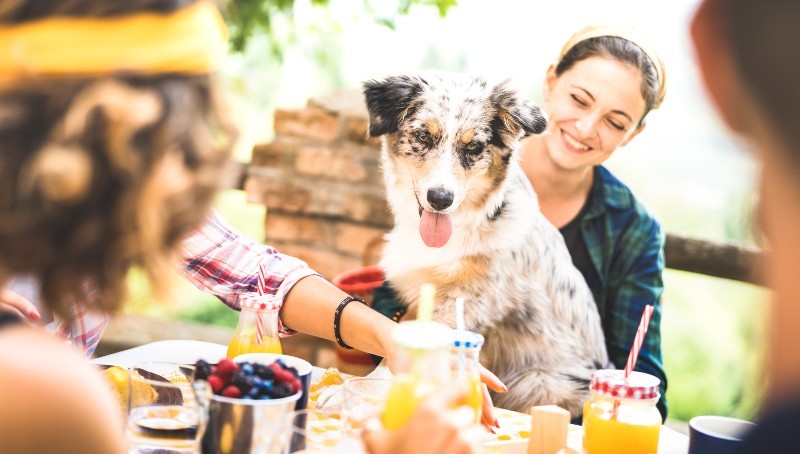 Designated Pet Areas
Set aside and clearly mark the designated area where you want your patrons with pets to be seated. With more than one pup dining at the same time in the same space, train your staff to allow ample room between tables with dogs as much as possible. Some pets play well with others while some can get overly excited or protective of their owners in the presence of other dogs. Maintaining a safe distance between pets will help prevent those situations from becoming volatile and potentially disrupting. If your restaurant has an outdoor patio, deck, or courtyard you have already got the first part of the equation covered.
Water Bowls and Dog Treats
This is a quick and easy way to make your dog loving customers feel instantly welcome at your restaurant and make some new four-footed friends at the same time. Instruct staff to offer customers' dogs a few treats and a water bowl as soon as they are seated. This is a simple, inexpensive way to make pet owners feel welcome and keep everyone happy. If you really want to set your venue apart from the rest, offer a separate pet menu. You can work with a local bakery for dog-friendly treats to add to your menu, ensuring that your canine patrons are offered fresh baked goodies created with them in mind.
Clear Guidelines
Having a clear set of rules in place for your canine guests and the humans who love them will help maintain order and tranquility. A few commonsense basics include keeping all dogs leashed while in your restaurant no matter how big or small they may be, insisting that owners remain with their pets at all times, and respecting the space and privacy of others. Most dog owners will know when their dog is being a disturbance, but there may come a time when you have to ask someone to leave. Instruct staff to seek out a manager if a dog is causing too much of a distraction for the other guests, or if another guest complains.
To learn more about operating a restaurant to allow for canine visitors, contact us.